17 Mar

Testimony of God's Faithfulness by Pastor Jeff Duncan

Background:

Our church, Iglesia Arbol de Vida, is very actively involved in our city. We are in a big metropolitan area, the fifth largest city in Mexico, Leon Guanajuato. It is a city of 2 million, with very few Christian churches.

Reaching the lost and hurting:

We do a lot of social service projects in our community working with what is the equivalent of the welfare department for the state. We are also very involved with 2 orphanages and a special needs school. We have a heart for the many abandoned kids here in our city and kids living in the streets.

Favor of God:

We have a very unique connection with the governor of our state. His wife's family all come to our church. The governor's wife happens to be the president of the welfare department, and she was so moved by the work that we do in some of the poorest colonias in the city, that she nominated me to the Governors council called the Family Council for the State of Guanajuato, four years ago.

I am the only foreigner on the council in the history of the council, and I am the only pastor on the council. We propose and vote on all the welfare programs the state is developing for families in need.

This has opened up some tremendous doors for us to partner with the welfare department in providing what they call here a "parenting school", which obviously is for teaching parents how to parent. We cover everything from hygiene to discipline and everything in between, because many of the parents in these poor colonias are kids themselves, teenagers.

We also provide marriage workshops, and have kids programs in many of these colonias (colonia is what they call a neighborhood here) in the city that are focused on teaching values, like honesty, respect, generosity, responsibility, and several other necessary life values.

We have a food distribution program in some of these colonias as well. We have wanted to build an orphanage now for the past several years in a colonia that we adopted 7 years ago, as well as a community center where we will continue to provide workshops and classes geared towards strengthening families and providing life skills and even vocational training. We have worked in this particular colonia for a long time now and felt this is where God wanted us to build our project.

The Need:

Over a year ago, we asked if the state could donate land for our project. They said they would, but nothing had transpired and we were starting to feel like it wasn't going to happen and we would have to buy a piece of land.

God's Provision:

Last week we received a phone call that we had been given a piece of land a couple of blocks from our outreach, in the colonia we have been praying to be located. It is almost an acre, which is big enough for our orphanage and community center projects.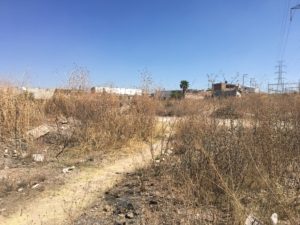 We are currently waiting on blueprints and the projected costs to be finished for our project so that we can present the project to the public and begin to raise money to build it.
Praise God, the land won't cost us anything! We know that God will provide what we need to build it…. that's our big news at the moment!