16 Mar

Love Outside the Walls by Jeff Duncan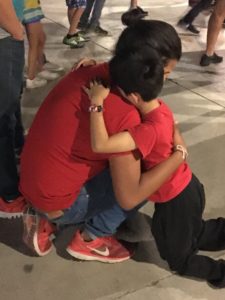 This is a picture of a little boy, probably 5 or 6. After praying for families at one of our outreaches, this little guy made a beeline straight for one our young people, Josue. He just latched onto him, clinging to his leg and sobbing. So Josue kneeled down to comfort him and pray for him. This little guy just buried his head in Josue's neck and cried and cried. His mom had just abandoned him to run off with some man. The grandmother is caring for him now, no one knows where the mom is.
For some reason he just latched onto to Josue. Josue prayed for him and just held him in his arms as this little guy's heart was broken. He would cry, hug Josue tighter, and kiss his cheek… he wouldn't let go…..
It's stories like these that just mess you up and make you realize that God has called us to love people, he has called us to be his "menders" of broken hearts. How can anyone relegate their service to God by just sitting in church on Sundays and Wednesdays. Doesn't matter how old you are, how many years in the Lord you have….. I've even heard people say, "Well, I've paid my dues over the years serving the Lord…"…. Let's get off our backsides and go love people outside of those 4 church walls!!…
Jeff Duncan is the pastor of Iglesia Arbol de Vida in Leon Guanajuato, MEXICO
He is the brother of SCN's Pastor Don Duncan at Tree of Life in New Braunfels, TX.