28 Apr

Easter Blessings from Pastors in SCN

Easter is such a powerful time to not only remember the price Jesus paid for our redemption, but to see it illustrated through transformed lives. Some pastors in our network have shared their service experiences, testimonies, and events leading up to and during Easter.
Easter at Free Worship Church (South Carolina)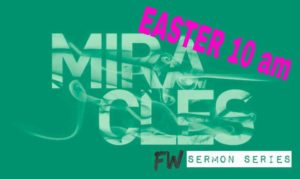 FreeWorship Church, located in Cheraw, SC, is a 7 year old plant and the only fully contemporary church in the area.  Our approach to Easter this year was actually quite simple and straightforward. We challenged our people to make personal one-on-one contacts and invite people to our 10 am worship experience. For a month, we used our FW news broadcast during worship experience to teach the importance of personal invitations.  Statistics prove that 8 out of 10 people will attend Easter over a normal Sunday if they are simply invited. We saw  52% increase in attendance on Easter Sunday and we had to bring out chairs to accommodate the overflow. We contribute the success to personal invites, Facebook advertising, and maintaining the normal worship time of 10am instead of a sunrise event.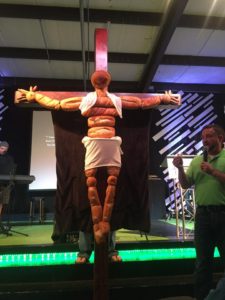 During the month of April, we were in a series entitled MIRACLES.  One of our most powerful illustrations is in photo below. Our creative team did an incredible job recreating a bread Jesus used for our "dying moments" worship experience.  Dying Moments is in effect a reverse communion where you pull a piece of bread (representing your stronghold, issue, or hangup) off the cross, pray over it, and lay it on the alter.  This is symbolic of crucifying your sin and leaving it on the alter.
Free Worship Church
Cheraw, South Caroline
Chad Vick
https://www.fwconnected.com/
Victory Family Church, Pennsylvania
We had an amazing time reaching out to our community through Eggstravaganza. You can watch the recap video below to see how this fun event led to many people finding relationship with God. Our Easter presentation "The Final Word" included dramatic performances, a message, and special worship music.
"The most moving and amazing Easter service in all my many years of "church". Feel so blessed to have been led here, God is so good." Vicky Brewster (FB)
John Nuzzo
Victory Family Church
Cranberry Township, PA
http://www.mediaatvictory.com/
https://vimeo.com/213428777%20
Journey Church, Louisiana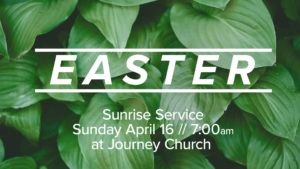 At Journey Church, we had The Great Egg Hunt at two locations with 100,000 candy-filled eggs while serving 3,000 plates of Jambalaya. For Easter, we had 4 services resulting in 48 salvations. God is good!
Jay Coleman
Journey Church
Greenwell Springs, Louisiana
Easter at Victory Christian Fellowship (Kentucky)
At Victory Christian Fellowship"s Easter Service, we used Friday as the day of pain, Saturday as the day of confusion and most certainly, Sunday as the day of Resurrection.  I had a couple bring the message to life as they shared their day of pain and how they both were in jail. The husband shared about being away from the Lord and he had a car accident after drinking and a person was killed and he was serving 3 years in jail.  The wife knew absolutely nothing about Easter, other than a bunny rabbit and was in jail for numerous drug charges.  The husband came back to the Lord in jail and the wife got radically saved in jail.  Once they were both released they met and got married. Their Saturday of confusion was how could they build credibility, who would hire them, and how would they gain trust with people.  It was a slow walk but they have a resurrection testimony now.  The husband has an awesome job providing for his family and even taking mission trips now.  The wife has been such an example of transformation that she went before the judge recently and all of her criminal records have been expunged, just like Jesus blood has done for us.  After they shared, the church was electrified and there were salvation experiences that took place for those that were lost.
Even if your resources are limited, your creative pool is low or you do not have the media advancements in rural America, you have transformed lives that have eternal weight and value.

Mark Harrell
Victory Christian Fellowship
Somerset, Kentucky
http://www.vcfsomerset.com/

Believers Church, Ohio
What an incredible Easter weekend! At Believers Church Easter Services in Warren, OH, our message was that "God is in the Wreck-Creation Business." "He wants to make beautiful things out of each and every one of our lives." We had 71 first time salvations and 52 of those were water baptized that very next weekend! Below, you can see our Easter service promo.
Joe Cameneti, Sr.
Believers Church
Warren, OH
http://believers.cc/
Faith Family Church, Gonzales
Easter at Faith Family Church, Gonzales was such an amazing time with our church family. With our Good Friday Service as well as our 3 Easter Services we had a 30% increase in attendance as we celebrated all God is doing in our small Texas town. We have had some great feedback from our Easter weekend that has been a great encouragement. 
"I loved the service! Thank you so much. Tonight (Friday) was awesome! I love our church! K. R
"What a great service! I came in with such sadness in my heart and left feeling refreshed and blessed. I love worship like never before."
"Worshipping is new to me but once you give it all to Him, it's so refreshing!" S.B.
"I truly feel like I belong at FFC. My heart is on fire. I have gone to church all my life and never had a pastor's phone number, much less called or texted by one!! Lol…you are the bomb!! Thank you for all you do." M.L.
Forrest Hamilton
Faith Family Church, Gonzales
Gonzales, TX
www.faithfamilygonzales.org
Easter 2017 at Cape First Church (Missouri)

This year, we celebrated Jesus Christ's resurrection with eight Easter Services divided between our 5 campuses in the Southeast area including a Good Friday service at our Main Campus.  Over 8,000 friends, family and visitors gathered to hear the Gospel and celebrate together during the Easter weekend.  The greatest celebration of this Easter weekend was when 114 people responded to accept Jesus as their Lord and Savior.  Along with that, we celebrated with our local communities with our annul Egg hunt and Family day.  Our well-attended event brought in over 5,500 people, we had 20,000 Easter eggs stuffed and ready for kids of all ages to fill and overflow their Easter baskets.  Sounds of laughter and screams filled the air as kids and parents climbed, jumped and slid down the inflatable slides and obstacle courses as well as getting to see all the animals in the petting zoo.  This was an amazing new feature for our families and friends to enjoy.  Kids snickered as they hand fed these farm as well as some exotic animals.  Pictures were taken and memories were made as families celebrated this resurrection weekend.  We also, started a "Serve Week" that lasted until the next Sunday which included free meals, construction projects, and outreaches.
Cape First Church
Cape Girardeau, Missouri
Gary & Rose Brothers
https://www.capefirst.me/
Faith Christian Family Church (New Mexico)
We love seeing all that God is doing in and through the Significant Church Network churches!!!
Easter this year was one for the ages! We dropped thousands of eggs out of a helicopter, had a blast serving the children of our community, and had 324 kids ages 5-12 said yes to JESUS!!! Over 600 volunteers the week of Easter helped us to deliver over 15,000 door hangers, pack eggs, and prepare our facilities to welcome all the people who came. God is so awesome! He's the God of divine vision and divine intervention.
Faith Family Church, Victoria (Texas)
Easter at Faith Family was a week-long labor of love called Passion Week. We started Sunday, April 9 doing a week full of projects geared toward our community. The list of events can be found at myffc.com. We ministered to senior citizens, children, honored first-responders, and served in low-income neighborhoods with almost 800 volunteers involved. Our goal was to reach the unreached, demonstrating God's love in practical ways.
At each event, we shared the opportunity to attend our Easter Experience, which started on Good Friday – a worship and communion service with a message including dramatic scenes of the crucifixion. Our Easter services on Saturday night, and two Sunday morning services included special music, a message, and dramatic scenes of the resurrection. Our kids enjoyed an Easter Experience of their own with a Holy Land Tour, Easter egg hunt, and Petting Zoo. For downloadable artwork and promos, visit significantchurch.com/easter-2017.
It was amazing to see God working in so many families over the Easter weekend – in our volunteers and in the community.
Here's a Facebook testimony from one of our Easter services:
"This is the most moving event I have ever witnessed! Happy Easter, Faith Family." Debbie Smart George (FB)
You can check out some of the highlights below with testimonies from Passion Week and the Easter Experience.
Jim Graff
Faith Family Church
Victoria, TX
www.myffc.com/media