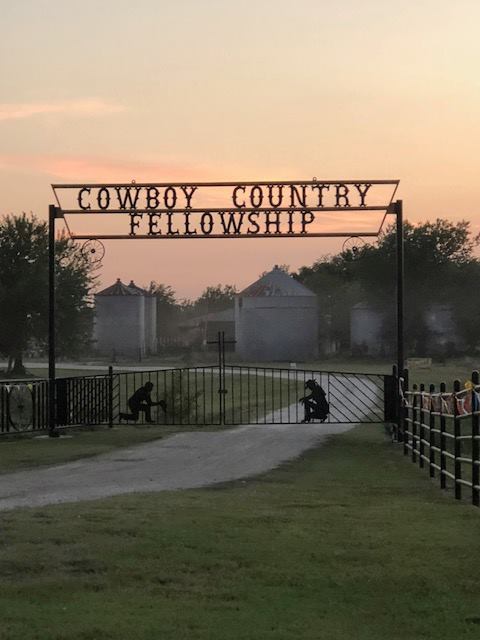 24 Apr

Church Highlight: Cowboy Country Fellowship – Talala, OK

Talala, Oklahoma is a small town in Rogers County, Oklahoma with a population of 273 people. Talala is also home to Cowboy Country Fellowship. Cowboy Country Fellowship is a unique place of worship that is dedicated to providing a spiritual home for cowboys and cowgirls. The congregation is full of individuals who love the western way of life and the teachings of Jesus Christ. The church offers a welcoming atmosphere to people of all ages, backgrounds, and walks of life.

Cowboy Country Fellowship is housed in a rustic, western-style building that features a large cross made of horseshoes above the entrance. The church offers a variety of services, including cowboy poetry, music, and Bible study. The services are designed to be casual and comfortable, with many members wearing jeans and cowboy hats.

One of the unique aspects of Cowboy Country Fellowship is the use of horses in their worship services. The church has a corral where members can bring their horses, and during services, they can pray and sing while sitting on their horses. The church also holds an annual Cowboy Church Rodeo, which includes traditional rodeo events such as barrel racing and bull riding, along with a church service.

Lead Pastors Cletis and Diana Coe knew long ago that horses would somehow be a part of their ministry, but they didn't know how or when. Pastor Cletis had a strong pulling on his heart and the vision became clearer…he was to start a cowboy church. They held their first service November 13th, 2011 with 164 people. The church was started as a ministry to the cowboy community in the area and quickly grew in popularity. The church began holding services in a local arena and eventually moved to its current location in a rustic, western-style building.

The church is committed to spreading the gospel and providing a spiritual home for cowboys and cowgirls in the area. The history of Cowboy Country Fellowship is a testament to the power of faith and the resilience of the cowboy way of life. The church has overcome many challenges and has continued to grow and thrive through the years. Today, it remains a beloved institution in Talala and a symbol of the enduring spirit of the cowboy community in Oklahoma.

Please join us this week in celebrating and praying for our friends at Cowboy Country Fellowship. Let's pray for God to continue to use them to help their community, build disciples for Christ and experience the life only God can bring!